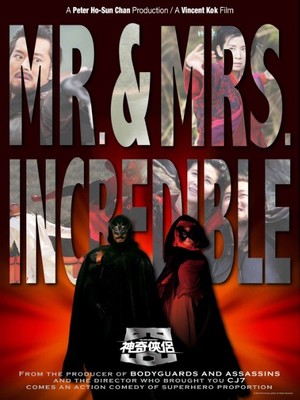 This is like the fifth time I've flown on KLM this year. This time I watched some non-Cantonese movies as well, so I only got one Canto movie in. It would have been more, but the other movies on offer all seemed to be either romantic movies or heavily Mandarin-influenced, so I wasn't interested.
What I watched this time was Mr. and Mrs. Incredible
, starring Louis Koo and Sandra Ng as a pair of retired superheroes who have to go back to their roots to foil a dastardly plot to steal martial artists' powers. It's not as good as it sounds. Pretty much the only good thing about it was that Ng and Koo have some great chemistry as a married couple as they go things like jealousy and infertility and buying a house together, that sort of thing. I can't say I got too much Cantonese practice out of it, but I did finally figure out that the "gu-leung" thing that annoying ATV series kept saying stands for "Miss" or something close to it. That's new.
So basically Mr. and Mrs. Incredible was a movie with plenty of failed attempts at humor and some rather mediocre superpower action, but the romance between the two leads made up for it. It was quite sweet and touching. A bit corny sometimes, and that love scene after she gets pissed off, well, that was like borderline marital rape, wasn't it? But they overcame everything and had a baby in the end, so all's well that ends well… I guess? It's best not to think too deeply about it.
Well, enough about that. Next up, I've found two fairly modern Canto movies that have colloquial Cantonese subtitles: Stephen Chow's Knight of Gamblers and Ekin Cheng's Young and Dangerous 2. Young and Dangerous 1 probably has them as well, but I deleted it long ago and can't be bothered to get it again, so we'll make do with that we've got. Both movies aren't much to write home about (YD2 is actually b-a-d), but if I can get my hands on some audio ripping software, I can rip the voice track, chop it up through Audacity and get myself several hundred new entries for my SRS. My computer is almost out of space, so I'd better get on with it sharpish so I can delete them.
That's it for today!