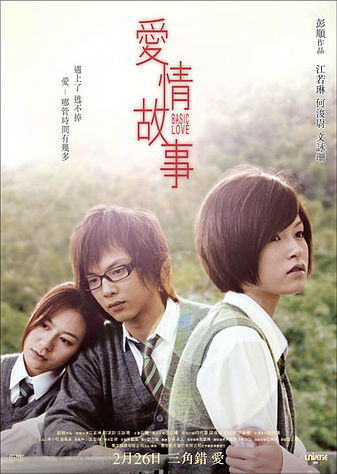 I watched the first 20 minutes of a Cantonese movie called Basic Love today. I was bored and had nothing to do, so I went to a streaming site and tried a few movies at random. A few betrayed me, in that they said they were Hong Kong movies, but then when I started them up, the only audio option was Mandarin. Even for movies clearly made in Hong Kong, like Chow Yun-Fat's "A Better Tomorrow", which I really wanted to watch. That's the power of 1.3 billion speakers vs 7 million, I guess. Cantonese is going have to fight hard to be heard from now on.
But I digress. So, I found a movie called "Basic Love", about a love triangle between a guy, the girl he loves and the girl he doesn't love who happens to be the other girl's best friend. They try to have this "We're all friends" thing going on when they are in high school, but of course it doesn't work. About 10 minutes into the movie, girl-he-likes, named Ling, suddenly falls ill and is taken to hospital. Hmm…I thought.
A few minutes later they visited her and she wouldn't say what was wrong. Even later, she refused to take her medicine, saying "No matter what I take, I won't get well again!" Uh-oh, I thought. This isn't one of the dozens of movies about love in the face of terminal illness, is it? I hastened to look it up on Google and alas, it was. Damn, I hate that kind of movie. All weepy and sappy and sentimental. And that was it for me.
I watched it with English subtitles, because I'm still not brave enough to go it solo. I found that with the subtitles, I could understand not just the basic sentences like "what's wrong with you" and "what do you want", but also slightly more complex ones as well. Without the subtitles I'm not sure how far I would have gotten. For now I'm content to keep studying and keep watching movies for enjoyment. The time will come, soon enough, to do away with the subs.