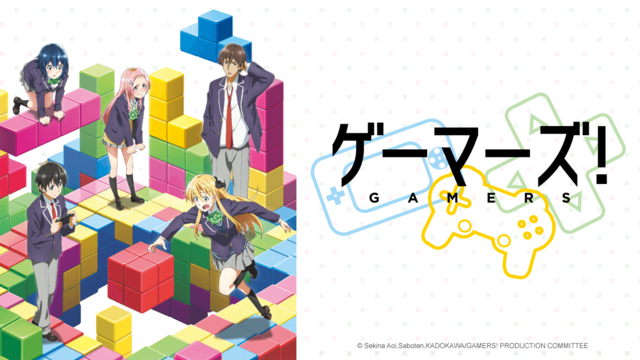 Gamers! is one of those shows where you think about dropping it after every episode, but you decide to watch one more before dropping it, then one more, then one more… I'm already up to episode 6.
Plot summary from Wikipedia: Keita Amano is a lonesome boy who enjoys playing video games but lacks any friends. One day, he is approached by the beautiful Karen Tendou about joining the school's Gaming Club, but Keita ultimately rejects her offer as he is not into competitive gaming. This rejection sets off a trigger of events in the lives of Keita and his fellow students in matters of both video games and romance.
The anime title isn't really all that accurate. It's about people who all tend to like games to a certain extent, but the real point of the show is wacky romantic hijinks where A likes B who likes C who likes him back but thinks B really likes D who does like B but also likes A, and round and round and round it goes.
It's almost hilarious how many unlikely misunderstandings Gamers can fit into one episode, with people walking in on the most unlikely situations or hearing only part of a conversation and getting completely the wrong idea, and on and on and on. If you like romantic triangles and love decahedrons, Gamers is definitely the show for you.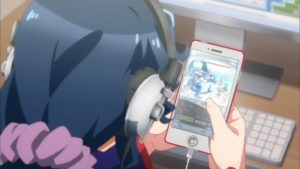 If you like games, on the other hand… I was drawn to Gamers because I saw a screenshot of a parody of Granblue Fantasy that Keita and his friend like to play. I thought it would be that kind of show where you're always catching references and parodies to popular video games. And there's an element of that, but it more or less disappears after the first two episodes in favor for romantic misunderstanding after romantic misunderstanding. The show is called Gamers, not Games, I guess.
The reason I've been feeling like dropping it from the start is that a romance show lives and dies by its characters. If you like them, you're solid. If not… TBH they're all really annoying, especially Keita's everyday otaku shtick and Karen's lovestruck teen gimmick. I've been sick of them from the start.
What keeps me coming back, however, is the way the show keeps throwing out curveballs when you expect them to go straight. I fully expected lonely Keita to jump at the chance to make friends via the gaming club, but he turned them down. For fully understandable reasons, but it was a surprise nevertheless. Then when Chiaki and Keita finally met, I was certain they would end up as an item, but they ended up hating each other – or claiming to, anyway. And then at the end of episode 6…. @___@
In short, Gamers is full of surprises so I won't drop it no matter how much the characters piss me off. I'm looking forward to seeing how the show changes based on the events of episode 6. Please don't reset to the status quo, please don't reset to the status quo… I will post a final review when the show is done.