That's episodes 1-14 of Sword Art Online II, if I recall correctly. It started a bit slow but picked up dramatically and was a great arc overall. A few niggling flaws here and there, but it managed to recapture much of the tension and drama of the very first Aincrad arc.
Summary: Nearly one year since the Sword Art Online incident, a new VRMMORPG known as Gun Gale Online has taken Japan by storm. One day, a cloaked man calling himself and his weapon "Death Gun" fires a bullet another player's avatar. A month later, Kirito meets Kikuoka Seijirou of the Ministry of Internal Affairs' Virtual Division, who reveals that the player whose avatar was shot was later found dead of heart failure. Kikuoka, believing Death Gun is specifically targeting professional GGO players, asks Kirito to infiltrate Gun Gale Online and investigate what is causing the victims to die.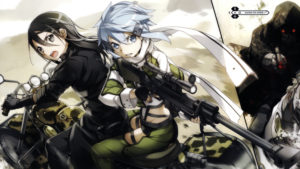 Of course the whole Kirito as unstoppable overpowered MC trope is taken even further in this arc where he becomes the very best player in the game within two days of starting it, all while using a sword instead of a gun like everyone else in the game (Silly Kirito, taking a sword to a gunfight). Nobody is able to stand up to him so the ultimate conclusion of the arc is never in any question, but there's still a lot of interest and intrigue and drama to be found in speculating about who exactly Death Gun is, how he kills his victims and what his motive is.
Spoilers: I suspected Shinkawa from the start. I had no choice because although the hero is in a committed relationship, Sword Art Online is still a harem show. That means no heroine is allowed to fall in love with anyone except Kirito. Which means Shinkawa was either the culprit (and he acted plenty suspicious) or he was doomed to be a victim. It's too bad he became evil because I thought he stood a real chance with Asada Shino. Sure she was attracted to Kirito's looks and confidence, but I'm sure she would have given up once she found out about Asuna. Plus the look of joy and pure relief on her face when Shinkawa came to her door in episode 14 shows how much she liked and trusted him. Way to blow it, smart guy.
For a brief moment I wondered if Shinkawa might be Pale Rider and thus a victim of Death Gun as well. But since no one except Kirito is allowed to restart a game and be totally awesome, that ruled him out as well. Sucks being a guy in the Sword Art Online world, eh?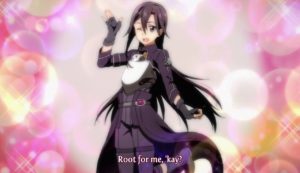 Still it wasn't all doom and gloom. There were some funny moments in Sword Art Online II too: on top of his expanding female harem, Kirito went with a feminine-looking avatar this time so now he has a lot of male fans as well. I laughed aloud at the point where he went "Everyone cheer for me, okay? <3" Oh Kirito-kun, will your Gary Stu-ness never end? :-DDD
Well probably not, Kirito's gotta Kirito after all, But to his credit the author Reki Kawahara did put a lot of work into humanizing Kirigaya and showing that it's not all brightness and sunshine under the hood. Kirito is still tormented by the things he had to do (specifically killing others) to survive in the world of Aincrad. Some quality time is invested in the arc helping him come to terms, at least partway, with the consequences of his actions to himself and others.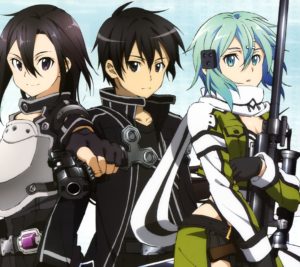 His own past also helps him to play therapist to Shinon (best girl? but I like Asuna too) and help her cope with her unfortunate gun-related past. Honestly this is something her mother and counselors should have helped her deal with long ago, but it's not Sword Art Online if Kirito doesn't get to save the day time and time again so we'll roll with that.
I thought it was very sweet – if a little cheesy and overwrought – for the woman whose life she saved that day to reappear and thank her personally. And it's good that they don't show her magically overcoming everything immediately but rather taking several small but important steps forward. It's good, believable progress and quite touching to watch.
All that drama and character development almost makes up for the few petty flaws in the arc. Like Asuna and co. being reduced to wallpaper and cheerleaders yet again. And the slow bits of the show like watching Asuna watch TV (zzz) or the episodes Kirito and Shinon spent crying to each other in the cave – important for character development but still a bit boring to watch.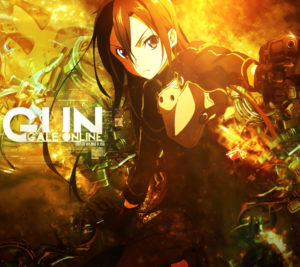 And there were eye-rolling moments like Kirito barging into Shinon's apartment to confront a murderer – unarmed, without backup, without a plan, nothing. And then being hit with a poison syringe but not dying because of all the spots on his torso the syringe could have hit, it hit the exact spot that was covered with an electrode from the hospital. Riiiight. *rolls eyes* And of course they sit around and cry some more after knocking out Shinkawa instead of immediately hightailing it out of the apartment to safety. What if he got up again and attacked them? What if he was faking being knocked out? What if he had an accomplice close by?
But still, it was a fun watch so I'm willing to overlook a few things. I'm glad I binge-watched it because it's way more fun that way. And I'd better not praise the rest of Sword Art Online II too highly too soon, since it might turn out to be like the previous season with a great first arc and a mediocre second one. I'll have to find to marathon the rest of it and then give my final thoughts.