Finally, brothers and sisters, whatever is true, whatever is noble, whatever is right, whatever is pure, whatever is lovely, whatever is admirable–if anything is excellent or praiseworthy–think about such things. (Philippians 4:8)
I am far behind in my anime-watching and I don't want to fall behind even further, so I like to at least try the first episode of each anime in each season so I know what to come back to later and what to drop. The season before the last was a bit of a wash, since I only found Saekano worth pursuing (even though I didn't actually pursue it and it's still on my "to watch" list). The last season I didn't try that many shows, and of those I tried only Dungeon de Deai wo Motomeru showed much promise, and even that was nothing special.
This weekend I started grabbing episodes of both this and last season, and I've come up with some promising series to try a little more of later. I came up with others that I wasn't too hot on, but might check out another episode of in the near future. And then there were the disappointments, Shokugeki no Soma and ISUCA.
Shokugeki no Soma – I like hot-blooded shounen comedy series as much as the next person, so I was rather looking forward to this one. First the scene where the girl had a "foodgasm" or whatever they call it after eating the fried rice was like Umm… seriously? =_= Then after that there's a scene that shows her being sexually violated by peanut butter-covered squid tentacles, I was like DELETE! DELETE! DELETE! Disgusting and unfunny. I don't watch anime to have my mind and eyeballs polluted.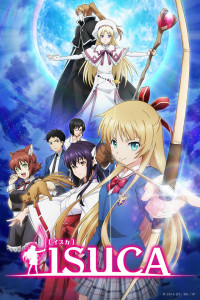 ISUCA – Dropped even faster than Shokugeki no Soma. If you've watched it, you probably know why. The first 5 seconds show a naked woman latching on to a young man on the street. Then I dunno, some ribs come out of her and she turns into a monster or something bizarre like that DELETE! DELETE! The nudity is bad enough, but I really hate horror series. Really, really. If I'd bothered to read the description I probably wouldn't have bothered to try it in the first place.
So those two shows are definitely out of the running. I'll watch a second episode of the shows that seemed interesting and then line up those I want to watch later on. Obviously I'm going to wait till they're complete because I hate following shows on a weekly basis, but at least I'll have some good things to look forward to in the near future.