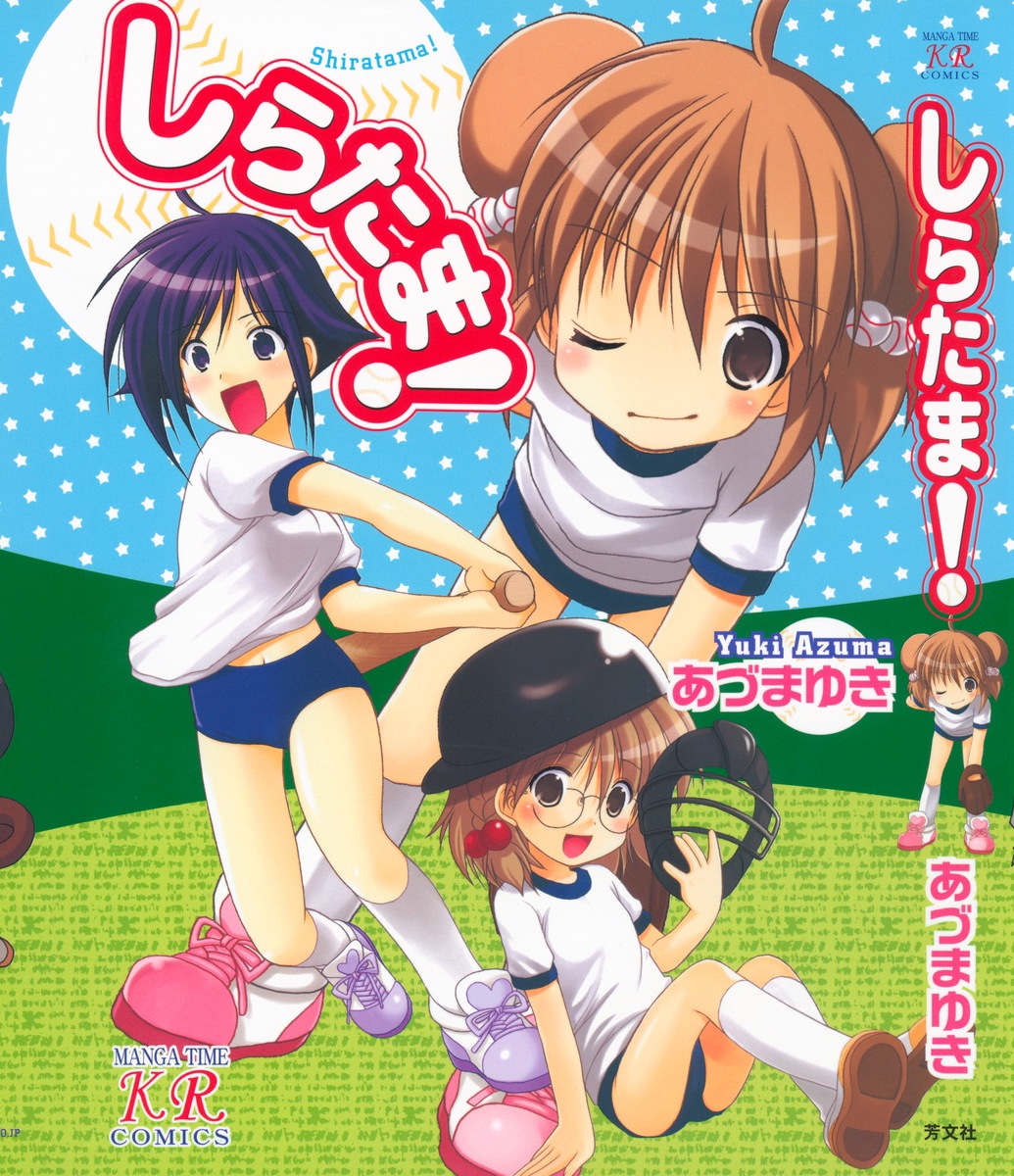 A less than stellar baseball 4-koma manga about a girls' baseball team. Shiratama! (しらたま!)
 is written and illustrated by Yuki Azumi, who I've never heard of before and never expect to hear of again. Frankly speaking if this manga hadn't had a 'loli' protagonist and loli-like character art, it would never have been published. It still shouldn't have been published anyway, but in the absence of a time machine all I can do is review what I've been given.
The art
Cutesy, but not too cutesy, loli but not too loli. The lines are clean and the action, what little there is, is simply laid out and easy to follow. Since the characters are supposed to be in high school, it feels silly to have them randomly flashing their panties and all the other things that count as 'loli fanservce' because they're far too old to be behaving that way. But then again nobody ever reads 4-koma manga for their logic.
Story
Tsubame Takatsu is a high school girl who isn't very interested in baseball. One day she goes to watch a match with her sister and falls in love with the drama and excitement of the game. When she returns to school, she resolves to form her own baseball team. All that is chapter 1. The rest of Shiratama! covers her attempts to gather members, design uniforms, learn to play the game and finally have matches against… grade schoolers?
Is Shiratama! any good?
As a sports manga, not really. The team does play some games eventually, but the focus tends to be more on the novelty factor: *gasp* they're girls! And they're playing baseball! rather than on the actual sportiness of it. This is a common feature shared with other girls-baseball series like Princess Nine and Taisho Yakyuu Musume, and I always wonder what the point is of making a manga about girls' baseball if you're not going to take them seriously.
In particular I can't help comparing Shiratama! to Macmillan Koukou Joshi Yakyuubu, another short 4-koma manga about a girls' baseball team. While both series start with the usual character introductions and amusing occurrences, the latter half of Macmillan is taken up by a well-drawn and interesting national tournament on par with any other sports manga and the whole "girls! and they're playing baseball!" issue never comes up at all. Shiratama! on the other hand ends without Tsubame and her team ever playing any official matches, but they do have fun pretending to be a team. The distant end of the future shows that their juniors do eventually make the team a serious contender, but it's really no thanks to our gang.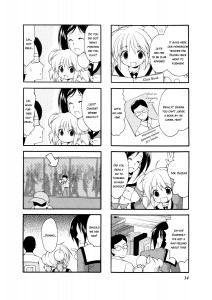 As far as moe manga goes, Shiratama! doesn't have any interesting characters to latch on to. "Loli-lites in high school" has been done a hundred times before, in far more interesting ways as well. Furthermore, probably because it's so short, the series never focuses enough on any one character. Thus character traits are raised and quickly abandoned, certain characters don't appear for long periods of time (Kaname for example, but even main characters like Tsubame can drop out of sight), some characters appear so late that not much can be done about them, etc etc. You really don't know who to follow or who to support and you're never given any reason to do so either.
As a comedy manga Shiratama! barely cracks the 'slightly amusing' line. If you can't see the jokes coming a million miles away, you need to read more manga. For example our main character, Tsubame is a high school girl who looks all of 10 years old. You can't expect the author not to joke about this, but you can and should expect something better than 10 different "mistaken for a grade schooler" gags. It gets old after number 0.
tl;dr Shiratama! is not very good. Whether you like loli, moe, sports, characters skits or comedy you'll still be disappointed if you try it. On the other hand if you do somehow like it, it's only 1 volume of fairly simple Japanese, so pick it up if you can find it.