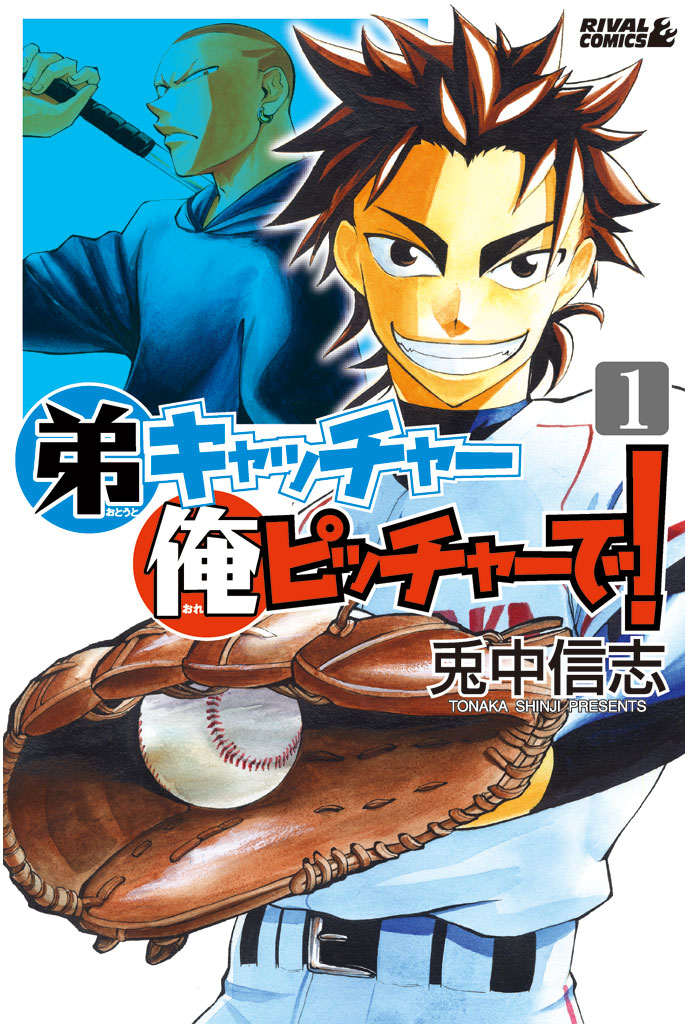 Mais oui, of course I'm still reading Japanese baseball manga. Ikkyuu-san was a bit of a failure, so I'm reading something more recent now. Otouto Catcher Ore Pitcher de! by Shinji Tonaka started running 2008 and up to 18 volumes and counting. I usually avoid ongoing series because then you get to the end and you're like WHERE'S VOLUME 19?!! but every rule is meant to be broken once in a while.
The main characters are Ichiya Touma and his younger brother Yoshi. They were a feared pitcher-catcher combo in middle school, but their parents' divorce forced them to split up. Two years later Ichiya returns from Mongolia to try and reform the Touma battery only to find out his brother Yoshi has turned into a fierce delinquent who absolutely hates baseball! Whatever happened to Yoshi? Will they ever play together again?
Uh, the series has 18 volumes so it's safe to say the answer is "Yes." I'll avoid spoiling what happened to turn Yoshi bad, but by the end of volume 1 he's slowly (very slowly) rediscovering his love for baseball and starting to (slightly) open up to his team mates.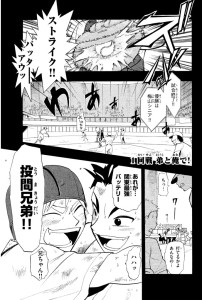 Not much happens in the first volume since it's mainly an introduction to the team as well as a chance to get the obligatory "Main character's team takes on the strongest team in the prefecture" match out of the way. Almost all baseball manga series have at least one such battle, usually in the first 5 volumes or so. I won't tell you the outcome of this one either. I can't spoil everything all the time.
My impressions on Otouto Catcher Ore Pitcher de! after one volume? I'm not exactly raring to read the rest, but it's a definite diamond in the rough. The chief attraction is the cheerful, silly, irrepressible personality of Ichiya, who regularly takes a licking from his brother Yoshi and comes back for more. His love for baseball and desire to keep pitching is also rather infectious. I hope they don't turn him into the serious, angsty type before too long. There are too many such pitchers in baseball manga.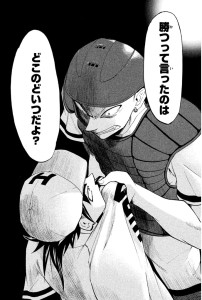 Apart from Ichiya, the other characters didn't make much of an impression. To be honest I couldn't even tell most of them apart, they all looked so similar. Most sports manga at least make an effort to give the main characters unique designs, but Ichiya and Yoshi look just like everyone else. I usually have to read their lines to try and figure out who said what. By the end of vol 1 I think I can recognize the Touma siblings on sight. The team captain has dark skin so I can tell him apart too. Everyone else is just so much ink on paper.
I don't think too much of the baseball action so far. It hasn't really been about the baseball anyway. More focus is on getting Yoshi to be the catcher so Ichiya can use his full strength pitching. Yoshi isn't a particularly good catcher and Ichiya isn't that good a pitcher, but both of them have been out of practice for 2 years so we can look forward to better things from them in later volumes.
I'll be reading this slowly on and off and giving my thoughts here and there from time to time. Will I make it all the way to volume 18 or will Shinji Tonaka ruin the series long before that? Stay tuned to find out!