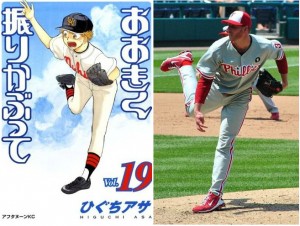 I knew I'd seen that pose somewhere before! Not that it's a secret that sports mangaka use real life athlete photos as source material, but I just wanted to post this somewhere 'cos I'm feeling rather clever. Ookiku Furikabutte Vol.19
 comes out in Japan on June 22nd, but I'm not buying it because it's just more Musashino Daiichi and Haruna, and that's not who I read Ookiku Furikabutte for.
As for the series itself, it's one of my favorite manga. Currently my favorite sports series now that Hajime no Ippo has been stagnating for goodness knows how long. I haven't mentioned it here before because first I wouldn't know where to start and secondly I only got into it recently. I watched Big Windup twice on Funimation's youtube channel and liked it so much that I bought the S.A.V.E. DVD set
 as well.
What I like about it is, of course, the characters. Every sports manga lives and dies by its characters, which is only obvious because if it's the sports the fans want to see, that's what ESPN is there for. Ookiku Furikabutte has Mihashi Ren, a wimpy, crybaby pitcher consumed with guilt (as well he should be) for making his middle school team lose for 3 years in a row because he wouldn't let anyone else pitch.
In high school he meets up with "genius" catcher Abe who latches on to Mihashi's potential and easy controllability and together with 8 others member of the Nishiura High School baseball team and their big-boobed coach, they aim to make it to Koshien.
Normally I dislike whiny types like Mihashi and bossy types like Abe, but something about these guys makes them not just easy to bear but actually easy to like. It helps that the author Higuchi doesn't try too hard to make them sympathetic. Yes, Mihashi had a hard time at Mihoshi, but it was 90% his own fault. Yes, Abe went through a lot with Haruna, but he shouldn't take it out on other pitchers. They're not perfect – and they're not even that great as a battery – but that makes it all the easier to root for them.
So far there are 2 anime seasons and 90 chapters of the manga out. I'm suffering from the usual "Caught up to the manga and now waiting is a pain" disease. I dropped Hayate no Gotoku because waiting for releases got too tedious and the manga wasn't going anywhere (gimme back my A-tan!), and it might only be a matter of time before I drop Oofuri too. For now, though, I'm just having fun.