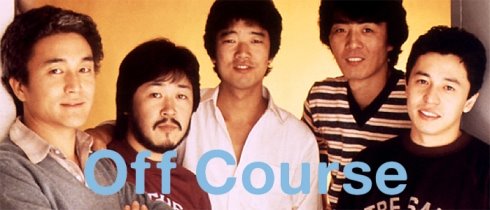 Known in Japanese as オフコース, Off Course was a Japanese "folk" band active between 1969 and 1989 when they split up so lead singer Kazumasa Oda could pursue a solo career. Although they termed themslves a "folk" band, the majority of their songs could be classified as pop, with an emphasis on smooth, soulful ballads powered by Oda's silky, unforgettable voice.
Band Members
Kazumasa Oda (小田和正) – Lead vocals, keyboard
Yasuhiro Suzuki (鈴木康博) – Guitar
Shimizu Hitoshi (清水 仁) – Bass, vocals, chorus
Ooma Jirou (大間 ジロー) – Drums
Matsuo Kazuhiko (松尾 一彦) – Guitar, harmonica, vocals, chorus
History
Oda and Suzuki met as classmates in high school. Together with Shinushi Michio they formed a group that went on to win several local singing competitions. They made their record debut in 1970 with "Gunshuu no Naka de (Inside the Crowd)" but met little initial success. Shinushi left the band in 1971, and in 1976 they added Matsuo, Hitoshi and Ooma to the band. In 1979, 10 years after they started, Off Course finally got its first big hit in the form of "Sayonara (Goodbye)." They maintained a huge level of popularity with a long string of mega-hits until they disbanded in 1989. Although fans have repeatedly called for reunion, Oda in particular has made it clear that the band is finished.
Off Course was famous for their western-sounding pop ballads, simple love-focused lyrics and smoothly-blended harmonic choruses. Even today their songs continue to be covered contemporary artists and sung throughout Japan.
How I discovered Off Course
Purely by chance back in 2005 when I was looking for Japanese learning materials, I downloaded an album of old Japanese "natsumero" (nostalgic melodies) off Youtube. I didn't listen to it then, though, just stashed it away for later. Fast forward to 2008 and I was bored one day. Loaded up those files on my mp3 player and was completely blown away. The album had songs by other great J-bands like RC Succession and Tulips, who I'll write about eventually, but Off Course was definitely the star of the show. One listen of YES-YES-YES and I was putty in their hands. The sound! The lyrics! Since then I've acquired about half of their songs (illegally, but I'm working on better ways) and I still think YES-YES-YES is their masterpiece, so I'll be uploading it soon for you to check out.
Key songs
Nemurenu Yoru
Aki no Kehai
Ai wo Tomenaide
Sayonara
Yes-No
Kotoba ni Dekinai
YES-YES-YES
Kimi ga, Uso wo, Tsuita