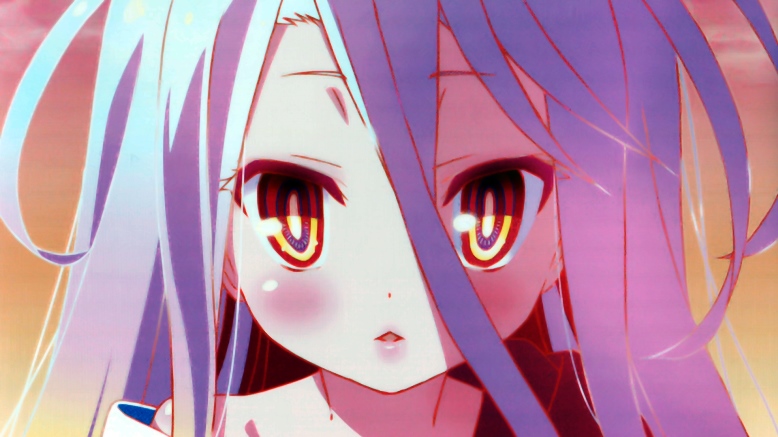 File this one under "Stuff I watched and now I'm sorry I did." In theory No Game No Life contains a lot of elements I like in an anime, including a fantasy world, invincible protagonists, and the whole "thrown into another world" trope.
The problem is, this time it comes mixed with main characters I don't like and can't root for, plus a whole lot of over the top fanservice, plus an inconclusive final ending because the light novel series is still going. This is why I normally stay away from light novel adaptations. It's just getting harder and harder to do so because there's just so many of them these days.
The story according to Wikipedia:
Sora and Shiro are two hikikomori step-siblings who are known in the online gaming world as Blank, an undefeated group of gamers. One day, they are challenged to a game of chess by Tet, a god from another reality. The two are victorious and are offered to live in a world called Disboard that centers around games. There, a spell known as the Ten Pledges prevents violence and enforces the rules and outcomes of games. The two travel to Elkia, the nation inhabited by humans. They participate in a tournament to determine the next ruler; after winning the crown, their next goal is to conquer all sixteen species in order to challenge Tet to a game.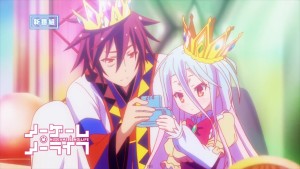 But by the time the anime ends, they've only conquered one other species in addition to the humans. It was okay when they were fighting to help the people of Elkia, but the whole "beat everyone so we can play with Tet" thing is kind of hard to get behind. Okay you're bored with life, we get that. Okay you think you're smarter than everyone, we get that too. But that doesn't mean we have to like you.
Apart from the sketchy motivations of the protagonists, No Game No Life also suffers from the problem that tends to plague most Overpowered Protagonist anime shows – a complete lack of competent opponents. Sure the show states right away that Blank never loses, but no one even gives them a hard time – except maybe the living chess game, but even that was very brief and possibly feigned.
Even when they seem to be in trouble like in the last game, they've actually thought 200 steps ahead. "Haha! I went behind you going behind me going behind you!" It was pretty obvious too, since butt monkey Steph had completely disappeared even though we knew she was going to play a part in how things worked out, etc. That's a bad thing, because the fun of Overpowered Protagonist shows is figuring out how they're going to win, so when the enemies are far below their level and you know how things are going to play out then, welp, what are you watching for? Thank goodness it was only 12 episodes, that's all I've got to say.
So to recap my opinion of No Game No Life, I liked the setting and the premise, disliked the protagonists, was disappointed by the low level of the opponents faced and absolutely abhorred the over-the-top fanservice. I'm sorry I pushed through the vulgarity in the hopes of getting a good show and ended up with just an average one. At this point I don't even care how it ends, I'm just glad to be done with it. Next time I'll note the early warning signs and avoid, avoid, avoid.