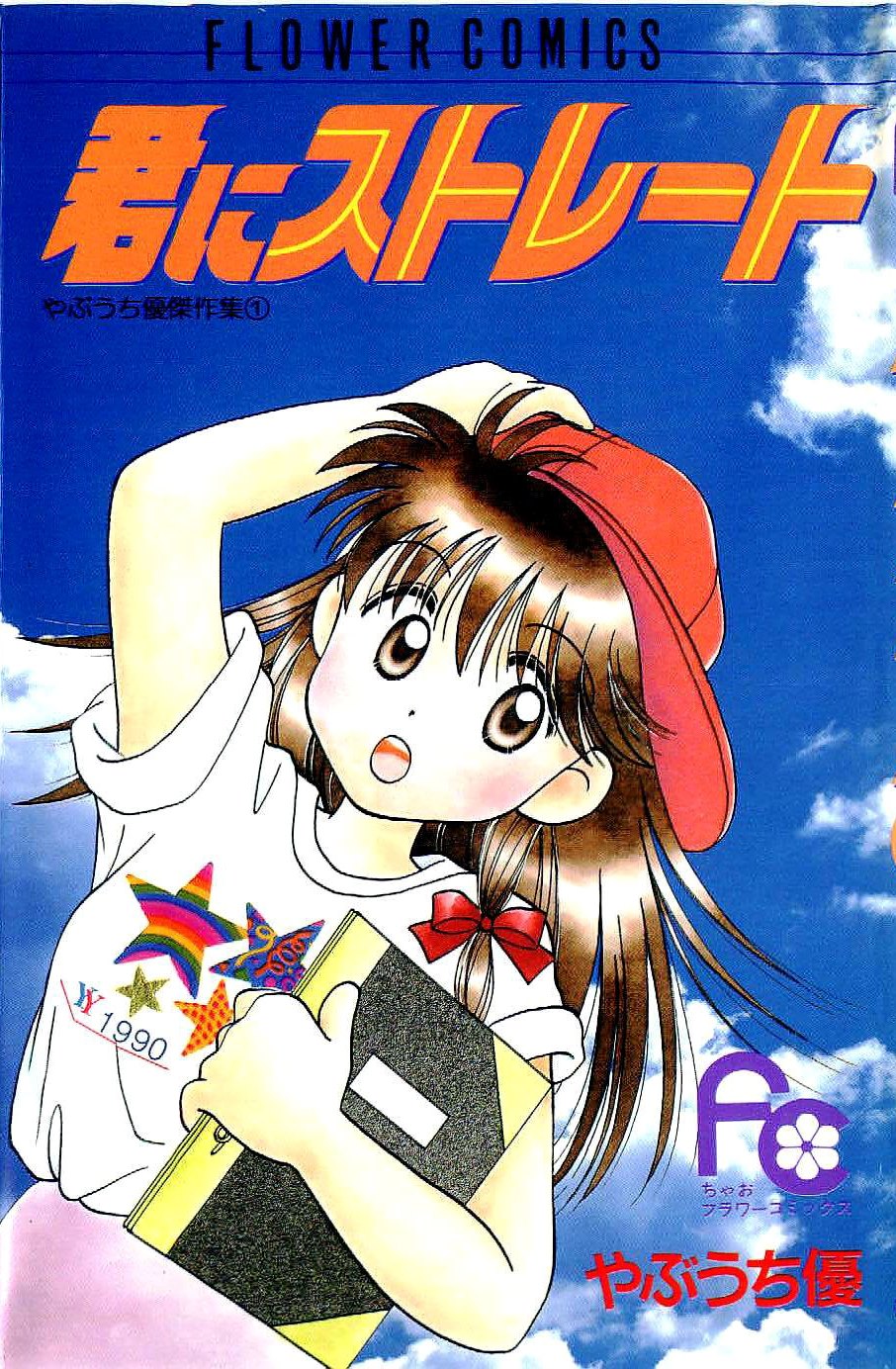 Kimi ni Straight
is a collection of one-shots by Yuu Yabuuchi, a shoujo mangaka. She's not as super popular as some other shoujo writers, but she has had some big hits with Shoujo Shounen, Mizuiro Jidai and Naisho no Tsubomi, which won the 2009 Shogakukan Children's Manga Award. Looking at Mangaupdates I see other titles of hers that should be known to western fans: Ani-com, Chiko's Wish (another collection of one-shots), Hitohira no Koi ga Furu, Kimi ga Mai Orite Kita  (yet another collection of one-shots), Koi o Kanaderu Kisetsu (even more one-shots) etc. etc. 
The Mangaupdates summary of the title story, Kimi ni Straight, goes like this:
Arashiyama Sagano just got beaned on the head by an errant baseball thrown by a rather rude classmate named Awano. This was his method of finding a manager for the baseball team for whom he pitches. Sagano reluctantly accepts and she becomes the team manager. Thing is, Awano's got game, much like his father who went to Koushien in his time. Is Sagano falling for him?
It's a bit of a spoiler because it's supposed to be a shock when Sagano finds out about Awano's late dad and stuff, but it doesn't matter because it's not that good a story anyway. The Kimi ni Straight book is made up of Kimi ni Straight, which is about 100 pages long, and three other short stories all set in winter and called Snow Fantasy 1, 2 and 3. Snow Fantasy 1 and 3 are sweet and likeable, but Kimi ni Straight and Snow Fantasy 2 pissed me off.
What's wrong with them? They both follow a similar pattern: 
1. Boy is a jerk to girl, who dislikes him
2. Boy suddenly acts nice to girl for some reason
3. Girl: *doki doki* What an awesome guy
4. It turns out that boy was being a jerk because he likes girl.
5. Girl falls in love with boy.
And they all live happily ever after. It's a very predictable pattern and there are 99,000 other shoujo manga out there where a girl falls in love with a jerk, so I don't see the need to add any more to the pile.
I thought Snow Fantasy 1 and 3 were very sweet because no one is mean to any one. Story 1 features a boy with a hopeless crush on his senpai and Story 3 has a girl with a crush on a boy she sees every day on the bus. They're mundane, everyday occurrences that could happen to anyone and all the cuter for it.
If either story was turned into a series then there would be all kinds of misunderstandings and evil rivals and some jerkish guy would appear to sweep the main girl off her feet and on and on, but these being simple, happy one-shots nothing of the sort happens. They're good for cleansing your soul after reading too much blood and gore. The characters are nice (main story excluded), I like the not-dated-at-all character designs and every story has a happy ending, hip hip hurray.
So like most one-shot collections Kimi ni Straight is a bit spotty in terms of story quality. Still the two stories I did like tell me that Yuu Yabuchi's other manga are worth at least a try because she's good at writing sweet romances when the mood strikes her. I'll read some more if I get the chance.