Another in the series on forgotten Japanese singers I started last time. The main requirements are that the band/singer should have sung at least one anime song and that they should have ceased activities or broken up at least 10 years ago. If they're pretty well-known in the English world I might skip them, otherwise I won't be too picky.
Today's artist: The OYSTARS (ジ・オイスターズ).
Notable anime song(s): Nanka Shiawase (なんか幸せ) from Flame of Recca.
Biography: The OYSTARS were a Japanese rock band from Hiroshima. They were active in Japan from 1993 until 2001. The band's main members were:
Osamu Funae/ Osamu (舩江修) vocals, guitar
Shuuji Oogushi / Shu-ji (大串修青) bass
Ryuuji Oogushi / Ryu-ji (大串湊史) guitar
Jun'ichi Hari / Harry (羽里潤一) drums
Formed in Japan in 1993, the Oystars first came to prominence in 1995 when they won a musical contest known as the "The 4th Music Quest." They made their major debut in 1996 under Pony Canyon with the single So Serious ~ Gamushara na Koi" (SO SERIOUS~がむしゃらな恋~). They released their first album "a Ragbaby" and embarked on their first national tour in 1997. In all they released 7 singles and 4 albums.
They split up in September 2001 for unspecified reasons. Post breakup they have all continued to be active as singers, songwriters and producers. Ex-Lead singer Osamu Funae is the CEO of SAMZ Inc., an entertainment, events and dining company in Japan founded in 2003. They still maintain their official blog quite regularly if you want to follow them, though it has very little to do with music these days.
Incidentally, they chose the name "The Oystars" because lead singer Osamu Funae used to work on an oyster farm during their indie days. Oysters also happen to be one of the products their hometown of Hiroshima is known for, so they got a bit of representing in there as well. "Oystars" is NOT a mispelling – they deliberately spelled it that way to copy the way The Beatles are known as 'Beatles' and not 'Beetles," plus so they could call themselves "Stars" instead of shellfish. Now we know.
Their involvement in Flame of Recca seems like the usual "Agency gets them a tie up" deal so common in Japan. It doesn't seem like they were specifically selected or that they wrote the song specifically for the anime.
Other songs by The Oystars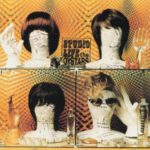 Hmm… TBH Nanka Shiawase isn't really one of my top anime songs, so I'm not that into The OYSTARS either. I've read a few volumes of the Flame of Recca manga, but it didn't grab me either. Still you never know what musical treasures are out there waiting to be discovered. And they do have music videos for most of their songs on their official website. Let's try a few and see.
Thrill is just a generic j-rock song, I forgot it as soon as the song ended.
Her reply is clearly very Beatles-inspired, almost like a take on "She loves you." Also forgettable.
Debut single So Serious is quite similar to "Nanka Shiawase." It's not half-bad, it makes a good one-time listen. Yuuki Wasurenai (勇気忘れない) is another boring one.
Okay, I've heard enough. The Oystars not really my cup of tea, sorry.