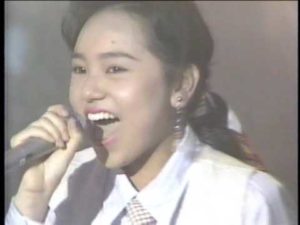 Welcome to a new occasional feature I'll be doing on this blog. I've been listening to old anime songs I used to like long ago, some of which I loved before and still enjoy now. Every once in a while I'll glance at the singer/band's name and wonder what they're up to now. At first it was just idle curiosity and I didn't take it any further than that, but eh, if I'm going to do all that rooting around, I might as well share my findings.
Today's artist: Sario Kijima (貴島サリオ)
Notable anime song(s): In the Night / Watashi ga Soba ni Iru (私がそばにいる), opening and ending themes to Key the Metal Idol OVA respectively.
Sario Kijima was born Saori Inoshita on February 19, 1974 in Handa, Aichi Prefecture. She got her start in show business after being scouted at a talent show. She picked the stage name by rearranging her name Saori to get Sario and mixing characters from the names of popular sumo wrestler Takanohana (the character 貴) and his Fujishima stable (the character 島) to get Kijima.
She made her acting debut with a role in Fuji TV drama "Alphabet 2/3 (アルファベット2/3)" (someone should do a blog about forgotten Japanese dramas) in April 1992 and her singing debut with "Akiramenai de (あきらめないで)" which was used for an Alpen commercial. She released other songs that were used for commercials, events and anime songs while appearing in a total of 5 dramas.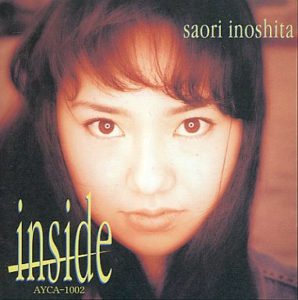 In 1997 she left her agency Pony Canyon and set up her own agency called Dubois. She also changed her name to Sally K briefly before returning to her birth name Saori Inoshita in November of the same year. She changed her singing style to a breathier R & B style and released the "inside" album you see on the right.
After a series of live performances in Shibuya, she stopped performing in 1998 and hasn't sung professionally since. At the end of her career, her highest position on the Oricon music charts was #46 with Together光の中で (Together Hikari no naka de) in March 1994.
As far as her personal life goes, the internetz tell me she was married to singer-songwriter Yoshimasa Inoue at one point – he produced her "inside" album – and Japanese wikipedia says she is currently married to a graphic designer named Basil Findlay.
I was hoping to dig up more about how Sario Kijima came to sing the Key the Metal Idol themes and what she thought/felt about them, but it seems like this is yet another one of those "powerful agency was able to get her a tie up" situations.
Her music videos are very cute to watch, but her voice is nothing special. I wish she would have tried more ballads like Watashi ga Soba ni Iru, where the slight breathiness of her voice is used to good effect. If you liked the Key the Metal Idol songs, you can try some of her other songs. I spent some time listening to her songs as "research" and liked:
Misty Blue – a very lively, 90s-anime kind of song
Catching My Dream – very generic idol song, wouldn't feel out of place as an anime opening song
愛が愛であふれてる (Ai ga Ai de afureteru) – rather boring, but reminds me of the Key songs